Private Label Products
Do you want to offer your customers your own ice tea or smoothies? Holderhof develops all kinds of beverages for third parties according to their ideas. Interesting own-brand beverages concept for companies from all sectors.
Beverages with your own look
Holderhof offers you own-brand beverage concepts from a single source. We can produce your own beverage from as little as 5000 bottles, filled in PET or glass bottles in various bottle sizes. Labelling according to your template is carried out using a paper sleeve or OPP film.
Private label concepts
PET or glass bottle? Small or large? Mineral water, ice tea, sweet drink or fruit juice? Organic or conventional? Freaky or sensible? A beverage is more than just a simple thirst quencher. Use the great marketing potential for your company or organisation, – no matter in which industry. Holderhof will search for and find the right beverage together with your clientele. On request with an individual recipe and of course under your own brand. No idea of your customers is too crazy for Holderhof not to put into practice.
From the idea to the finished beverage
Why private label?
Producing your own ice tea or fruit juice is time-consuming. Private labels – also known as own brands – offer an interesting way out. The idea: products from external producers such as Holderhof are marketed under the company's own name, if desired even according to the specially composed recipe. This offers interesting perspectives in marketing and enables higher customer loyalty. In addition, there is often a clear price advantage compared to branded products.
References
For your inspiration, here are a few selected examples from Germany and abroad of private-label beverages developed at Holderhof and bottled on the modern equipment. We would be happy to show you more on request.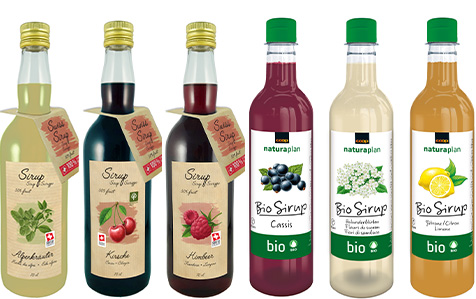 Organic certified syrups in the "Naturaplan" line in various flavours, in an attractive PET bottle design. Or in the elegant glass bottle with a focus on regionality and Swiss origin.
Among other things, the German supermarket chain sells organic elderflower syrup.
Schwyter Bakery, St. Gallen
The Schwyter bakery in St. Gallen has a wide range of organic own-brand beverages.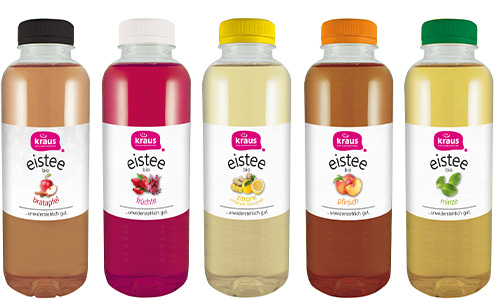 The traditional artisan bakery chain offers own-brand ice tea in its branches and cafés.
Restaurant chain Holy Cow
In addition to ice teas, various syrups, apple spritzer and apple juice, the restaurant chain has been offering the soft drink "Holy Cola" since 2022, which is produced according to Holderhof's own recipe.